New selection of wraps are in!  You can buy a pair for $6 or get 2 sets for $10.  And remember, free lessons on how to wrap your hands – just ask!
Also, TBI is still taking orders for Muay Thai shorts that'll be shipped straight from Thailand.  One larger order will cut on shipping costs for everyone.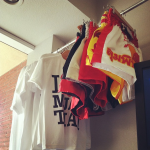 More shirts are on their way!  This design but will be on a heather gray tee.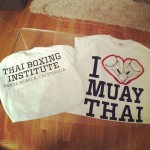 If you're interested in other gear (shin pads, gloves, headgear, etc.) ask to see about including into the one shipment to save money there, too.