Howdy!
SUP?  coach vik here happy to be back and everyone was definitely missed.  summer is here and that means bigger classes and sweaty mats.  We have lots going on this month so check it out!  thanks guys!
Re: Hygiene
So with the summer coming upon us, i would like to remind everyone that cleanliness is of the utmost importance to keep a cohesive training environment steady..  Please do your best to keep yourself fresh which means, wearing deodorant, using clean hand wraps and equipment (i.e. don't leave your shit in the trunk of your car) and especially clean work out clothes.  Aside from keeping offensive odors out of the gym, this helps mitigate any sort of infections and diseases out of the gym.  of what sort you say?  well, if i may:  google image search any of these:
STAPH
MAT HERPES
RINGWORM
HAND FOOT MOUTH DISEASE
ZIKA VIRUS
DO YOU WANT THAT FOR YOURSELF OR ANY OF YOUR TEAMMATEs?!  NAH, DIDN'T THINK SO.  so yea, the coaches do they're best to keep the place clean, please do your part.
other things you can do to help out:  bring a towel to wipe your sweaty ass arms, legs and shoulders down.  it's not fun having to swallow your salty ass sweat when holding pads.
trim your GD nails.  no one wants to hear you walking across the mat nor do we want to get our necks or feet scratched by your sharp talons.
thanks guys!! (insert blushing face emoji here).
School News:
FIRST EVEN OF THE MONTH, WE HAVE FILIPO FIGHTING SATURDAY, JUNE 4TH AT SITYODTONG AZUZA.  doors open at 3 pm, fights start at 4pm.  fillipo is the first fight of the night so try and get there early!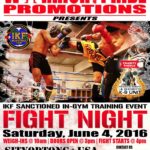 ALSO:  we will have our first beach class of the season june 11th at 11 am over at venice beach.  check out the map:

Next saturday we welcome summer and celebrate a productive past couple of months. 11 am class begins… I have a few fun things planned for the class so be prepared :] the only equipment you need is your gloves and wraps, all other equipment will be provided.
at 12 we will be having a potluck hangout session. so please feel free to bring something to share. either utensils, drinks, plates, food, etc. if you have any other sports equipment, i.e. soccer balls, footballs, volleyballs, feel free to bring them. oh and don't forget your sunblock!
we will meet up at the tower between club house and wavecrest ave on the sand in venice beach.
any questions?  please don't hesitate to ask!
CALENDAR OF EVENTS:
June 4th:  Filipos fights at sityodtong
June 11th TBI's first beach class and potluck of the summer season.
school closure:  monday, 4th of july.
Thats it guys!  Thanks for reading!!!!
Jnue class curriculum:
5/31-6/4-Elbows
6/6-6/11-Push Kick Defense and counters
6/13-6/18-Trapping kicks and sweeps
6/20-6/25-Boxing
6/27-7/2-Kick Defense and counters