HI GUYS! been a while, just want to update y'all on somethings happening at the gym. Busy season is upon us so expect the classes to be bit busier coming up. Thank you guys for being so welcoming to all the new members coming by. It's this sort of cohesive, awesome environment that makes TBI so special and wouldn't be that way without everyone's help. Thanks!
—
Coach Nick's fight:
Hey guys, so here is the flier once again for coach nick's fight this friday. it's in studio city, doors open at 7. he is fight 15 so there should be plenty of time to get there. tickets still available at the gym, 25 bucks a seat! come out and support!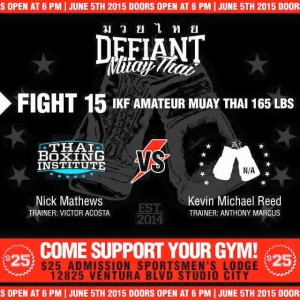 Beach Class and Potluck:

Here is out next TBI event putting. We've had a busy few months with the classes picking up, and james, and nick fighting. Once all the dust has settled i believe it's time to enjoy all our hard work with some beach fun 8)
class starts at 11, potluck luck hangout sesh starts at 12. Please bring something to share and enjoy! Once the date gets closer i'll announce where we'll meet and put up a sheet to see who will bring what.
Big Thanks:
Last thing, just want to say thank you to all the members that have helped out with all the pad holding, clinching, sparring, general support for all the activities (lion fights, pub crawl, fight events).
and also for everyone being so kind and introducing themselves to all the new members (had to mention that again because it's so awesome)
THANKS GUYS!!
—
Curriculum for JUNE
6/1-6/6-SWITCH STANCE
6/8-6/13-spinning techniques
6/15-6/20-Foot Work
6/22-6/27- flying techniques