F.A.Q.
What will my first Muay Thai class be like at The Thai Boxing Institute?
Your first class will be with the head instructor, and will ease you into the training so that you will become comfortable.  He will show you proper punching and kicking techniques, hold pads for you and help you out along the hour.  If interested in sparring, at least a week will be given in order for the student to become comfortable with the art, and even then the sparring will be limited to practicing defense technique.
Do you have children's classes?
No, at the moment we only specialize in teaching and training adults.
How much time does training take?
Your typical class takes about One hour and 15 minutes and is split into different segments such as; warm up, stretch, bag work/shield work, pad work, technique drilling sparring and cool down.
Is sparring offered/required?
Yes sparring is offered, and NO sparring is never required.  Sparring is always OPTIONAL.  Classes spar every monday, wednesday and  friday for 15 minutes towards the end of class, and sparring classes are offered afterward for those who want to supplement their training.  Coach Victor will always have exercises for you to do in lieu of sparring.
What is Muay Thai training like?
Your average lesson will consist of you warming up, learning and practicing technique, pad work and cool downs. Also included in the lesson is a great emphasis on correct form, execution, conditioning, ring strategy (if necessary) and more.  A session of Muay Thai not only has a high caloric expenditure; it's also a great way to tone your body and relieve stress. it's high energy but suitable and enjoyable by all levels.
 Is Muay Thai for me?
YES!  If you want a fun, tough, enjoyable work out then MUAY THAI IS DEFINITELY FOR YOU!
Is there danger of injury?
As with any contact sport, injuries may happen.  At The Thai Boxing Institute in Mar Vista, we take extra care in making sure everyone is paired up correctly and Coach Victor takes extra precaution to make sure everyone is training in a safe, welcoming and supportive environment.
Do you have tournaments?
Often we will have interclub sparring sessions but if one is interested in fighting as an amatuer and eventually a professional, The Thai Boxing Institute will help you reach and attain your goals through specialized 'Fighter' training meant to get you prepared and ready for a bout in the ring or cage!
What are your hours?
Gym hours are posted on the Location and Contact info page.  You can also get the latest updates by viewing the Schedule of Classes.
Where are you located?
We are the only muay thai west los angeles school located in Mar Vista, West Los Angeles.  Address and map are found on the Location page.
Do you have parking?
Yes! We have plenty of parking. We are located in a shopping center in the middle of a pizza shop and a liquor store. There is a 10 car lot that is on a first come first serve basis, and there is also plenty of neighborhood street parking. The Image below shows where street parking is available at all hours: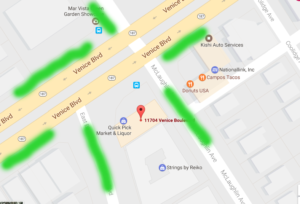 How much do lessons cost?
We have various options for to help with everyone's needs.  We have both contractual-noncontractual rates.
Price List:
Drop-in for new member: $10
Drop-in for the day: $20
First 30 days for new members: $99
Muay Thai 3 x per week: $124 (Monday & Wednesday & Friday or Tuesday & Thursday &Friday)
● 6 Month Contract*: $114/Per Month
● One Year Contract*: $99/Per Month
Unlimited Muay Thai Training: $199/Per Month
● 6 Month Unlimited Contract*: $174/Per Month
● One Year Unlimited Contract*: $149/Per Month
Six Months Pre-Paid Unlimited Training: $900
*contracts are NOT mandatory
Private Lessons:
One Hour Session: $100
Three One Hour Sessions: $275 (15% Savings)
Five One Hour Sessions: $425 (25% Savings)
Ten One Hour Sessions: $700 (30% Savings)
All memberships are for any of the classes and open gym hours offered.
Privates are a great way to get intensive instruction and immediate feedback on your form and progress.
How can I arrange a Private Session?
Contact us here.
Do I need to bring my own equipment?
TBI does provide loaner equipment (gloves, shinguards), but most students prefer to use their own gloves and protective gear.
What do I need for class?
Boxing – handwraps, gloves
MT – handwraps, gloves, (recommended: shinguards)
Sparring – handwraps, gloves, shinguards, headgear, mouthpiece