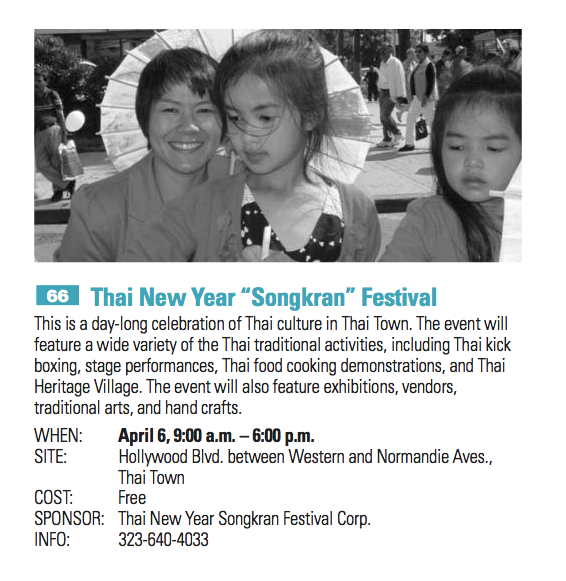 Sunday, April 6th 2014 is the date for this year's Hollywood Songkran/Thai New Year Festival.  The Festival is a Thai new year celebration held annually in Hollywood where all of Thai town is shut off from traffic and a giant festival is held.  There will be vendor booths, Thai food booths, scheduled live Muay Thai fights, and other various Thai cultural demonstrations such has Thai dancing, fruit carving, beauty pageant, etc.
Last year a few us went and had a great time.  Hoping we can get a TBI group going again this year.
Here is the Yelp page about the festival with some information on what people have to say:
http://www.yelp.com/biz/thai-new-year-festival-songkran-los-angeles
It's a giant festival spanning many city blocks in east hollywood.  With that said – Please plan accordingly for transportation, whether you catch public transpo or get dropped off.  Parking and traffic is insane every year.
And keep the weather in mind!  If the sun is out, whether bright and sunny or through hazy patches of clouds, BE PREPARED TO GET SUNBURNED!  Bring plenty of sunscreen and hats and shades and any such items to protect yourself.  We'll remind everyone as the event approaches.
It's a great time and we hope many of you will be able to come and check it out to have lots of great food and drinks and to get to know other TBI members!
(image from culturela.org)